Google Ads Updates: Why Should You Avoid Auto-Applied Recommendations?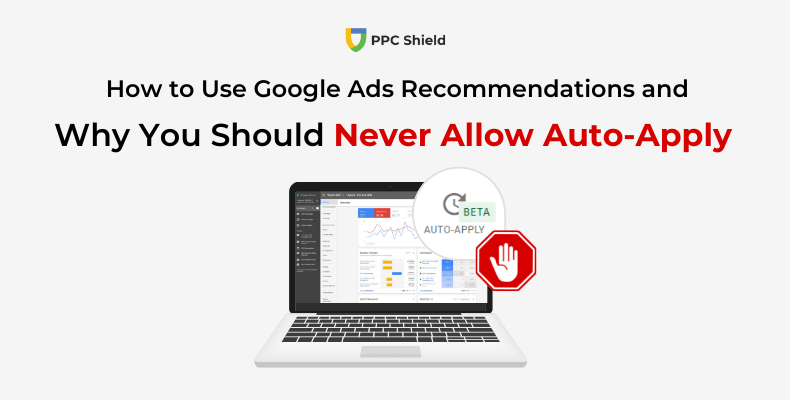 On April 14, 2021 Google officially launched its Auto-Applied Recommendations feature.
If you're using Google Ads, then you must have received various kinds of recommendation notifications provided by Google for your campaigns.
But what exactly are these recommendations? Will they really benefit your campaigns? In this article, we'll help you crack the code on Google Ads Recommendations and provide you with tips on how to use them to your advantage. 
⚠️Why should you be careful and avoid auto-applied recommendations? Jump straight to this section to find it out. 
What Are Google Ads Recommendations?
Google provides many recommendations that are worth looking into and gives you a rough estimate of how applying each recommendation will affect your campaigns, from increasing the number of conversions to helping you get rid of redundant keywords and manage your account better.
As stated by Google, there is a total of 60 different recommendations for you to choose from. While many recommendations are helpful and can improve your campaigns' performance, not all of them are necessarily beneficial, and some can even damage your campaigns' performance – so it is important to evaluate each recommendation accordingly and make sure it fits your campaigns' goals.
Some recommendations could also conflict with each other, making things way more confusing than they should be. It's important to know that with each recommendation, you have the choice to apply it or dismiss it (even if you decide to dismiss it, your score will still improve!)
You should accept recommendations with caution, applying possible irrelevant recommendations could impact your campaign. However, some recommendations could be beneficial enough to increase the performance of your campaigns. The key to Google Ad recommendations is to use it wisely and review each recommendation carefully to see if it's suitable enough for your needs and campaigns' goals. 
New Feature: Auto-Applied Recommendations
Now, this is the important part. 
Google has recently rolled out a new feature that allows you to opt into applying specific recommendations automatically.
Don't get us wrong – we do believe in Google Ads and its algorithms – but they are not always right. That's why you should never allow auto-applied recommendations.
⚠️ Why Should You Be Careful With This Feature?
Allowing Auto-Applied recommendations means giving all the power to the hands of Google, which is quite risky. It's the same disadvantage as with Google Ads Smart campaigns – you will save time an efforts in managing your PPC campaigns, but at the same time have much less control over them. 
You (or your account manager) know the ins and outs of your account – and you probably have some campaign(s) that you're pretty confident in and you know what works best for you. While some of the actions recommended by Google can actually help your campaigns,  other recommendations may have a drastic effect – such as automatically switching your bidding strategies or automatically enabling targeting expansion – something which you might want to avoid.
This can eventually lead to unexpected results, such as sudden jumps in your CPA due to potentially irrelevant clicks, unforeseen changes in your conversion rates, and so on – which eventually translates to potential money loss and unwanted waste of your budget.
Live Case: Keyword Recommendations That Could Harm Our Campaigns
Here's an example of a popup you might see when applying a recommendation you are interested in:
In this example, we've decided to apply a recommendation to add specific keywords we consider relevant. When you do so, Google now also suggests you opt into using recommendations of this type automatically.
Now here's a live example of a recommendation that we wouldn't apply since the keywords Google offers are too broad and not necessarily relevant for us:
Note that the case with the keyword-related recommendation was just an example. Google has a wide variety of recommendations that include changing campaign bid strategies, ad rotation settings, etc. 
Watch Out: What Happens If You Opt In?
So what happens if you're opted in is… Google automatically adds these keywords for you – you start getting clicks & impressions, but no conversions – which eventually makes your CPA jump, decreases your conversion rates and harms your campaign overall – or in other words – you will lose money.
Another example would be Google choosing recommended keywords that are usually irrelevant to your products and services, resulting in an increased spend with no return. With that being said, it should be an important step for you to do a quick scan to check if there are irrelevant recommendations if you do choose to opt in.
How To Cancel Auto-Applied Recommendations?
If you wish to check recommendations and apply them on your own, you'll need to cancel auto-applied recommendations. To do so we've provided a step-by-step guide from Google on how to opt-out of auto-applied recommendations:
Tip: If you choose not to opt-in, you will still be able to locate Google's suggestions through the Recommendations tab. 
By clicking on auto-reply on the top right hand corner of your dashboard, you'll then be sent to a page called "manage" where you'll be able to view what and when Google has auto-applied to your account. You may then choose to check or uncheck the boxes within categories such as bidding and budgets, keywords and targeting, and more.
Conclusion: Don't Allow Auto-Applied Google Ads Recommendations
❌ Don't click the 'Auto-Apply' button to opt-in for Auto-Applied recommendations 
Google might choose recommendations that might be irrelevant or even harmful to your campaigns.

Google Ads

Recommendations can be a useful tool only if you use it with caution and review every recommendation
While this is not always the case, Google can often offer helpful recommendations. Still, you'll be better off checking these recommendations on your own and manually applying those you find relevant.
It might take you some more time, but it will save you from potential money loss and help you avoid harming your campaigns' performance.
So take your time to go through your recommendations manually, and decide the ones that are important to your business!